Yeah, there I go slacking again. I know. I am terrible. Things have just been so hectic lately!
Tomorrow, I will be the mother of a Kindergartner. I never thought this day would come. I always knew it WOULD. But, it never seemed like a reality. Yes, she went to Pre-K at the same school last year, she rode the bus, it was full day. But there is something different about this. It's Kindergarten for Pete's sake! *sigh* My baby is growing up.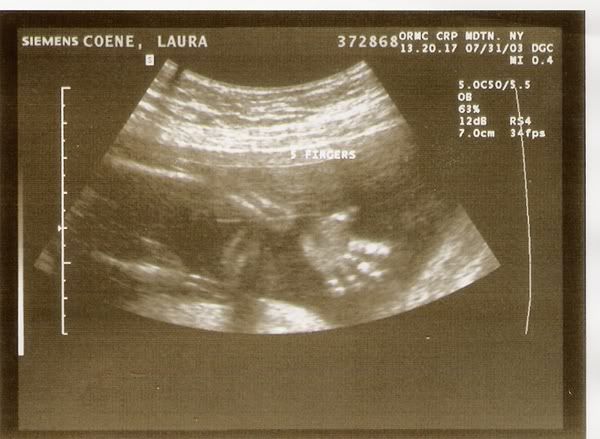 Once upon a time ...
my 5 3/4 year old wasn't even thought of. Adam and I were engaged and had all intentions are starting a family together. And before we knew it... wow.. we were pregnant! She definitely wasn't planned at that time, but she was a blessing none the less! She helped us to speed things up a bit! The first time we saw her on that ultrasound machine.... wow. Just wow. It was amazing! We were instantly in love with a little person that we hadn't even met yet! She was amazing to us! And we knew that she was going to change our lives!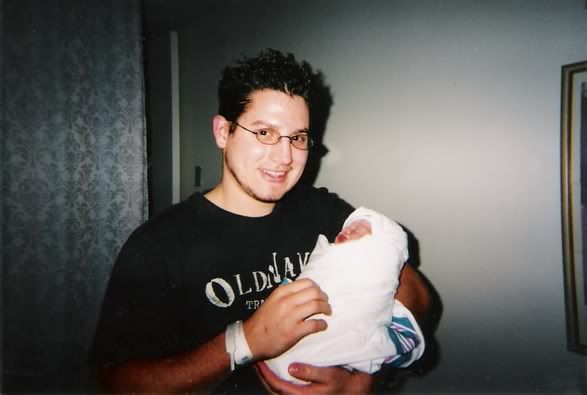 Once upon a time ...
my 5 3/4 year old was an itty bitty 4.lb 7.oz baby. I always wondered how in the world we could have so much love for something so small. We were right though, our lives DID change. In a HUGE way! We were not so much Adam and Laura anymore. We were Daddy and Mommy now. WOW! What wonderful names to have been honored with! We are parents! We grew up! (ok, so I grew up... Adam... well... let's just say, he's the fun one!)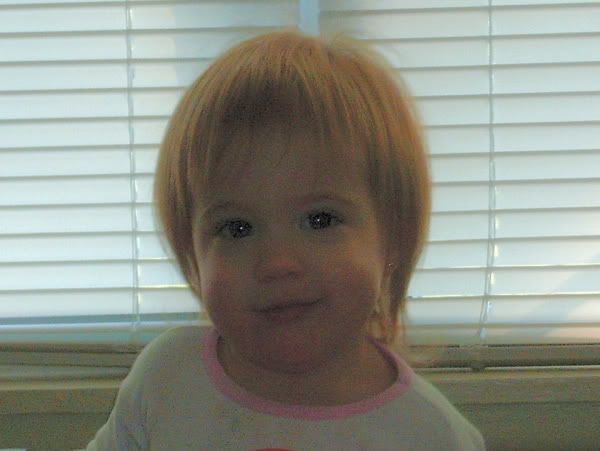 Once upon a time ...
my 5 3/4 year old was a very active 1 year old! She had us running every which way chasing her down! She was so full of energy and personality! And that has not changed a bit! We are always wondering what is going to come next!!!
Once upon a time ...
my 5 3/4 year old was a 2 year old! And she just became a big sister! And a great big sister at that! She loved her little brother (Coco as she called him then!). She was so sweet to him and loved on him all the time! She really matured in a short amount of time and took on the big sister roll wonderfully!
Once upon a time ...
my 5 3/4 year old was 3! And boy was she a handful! As her brother got older, she got more daring with him! She started to "teach" him how to tough stuff out! But she was still a loving big sister, and after she "taught him to tough it out" she would give him love!!! And make him feel better. She was compassionate towards her little brother! She was growing and maturing and changing so fast!
Once upon a time ...
my 5 3/4 year old was 4! She was a little DIVA I tell you! She had an attitude of a teenager (come to think of it... that hasn't changed!)! But, she was still a ray of sunshine to us! She cracked us up with her different attitudes, expressions, etc. She was a riot! This child has definitely given us a run for the money! She started Pre-K in her 4th year and she loved every second of it! She was a sponge! learning everything she could! She also found out this year that she was going to be a big sister AGAIN! She was ecstatic!! She was more aware this pregnancy and showed more emotions through it! She made it VERY clear that she wanted a baby sister! We were very happy to find out that her prayers were answered! She became a HUGE helper when she was needed! And I loved that she was so willing to help "take care of mommy" while I was pregnant!
Once upon a time ...
my 5 3/4 year old turned 5! She was a pre-k student and a big sister PATIENTLY waiting on the arrival of her baby sister! And when that baby sister was born.... Mackenzie was in love! She became little mommy again! She took care of mommy and maddy as well as being a full time student of course! She was a busy girl! But she loved every second of it! She loves being a busy body! She has to be doing SOMETHING (something cool in her words) in order to be happy! There is not chilling out for this girl!!! She is just on the go and taking in everything she can! And I wouldn't have it any other way!!!
Once upon a time I had a baby girl in my arms... and now, I have a 5 year old Kindergartner. I am so sad that time is going by so fast. It seems like just yesterday she was put in my arms for the first time.
But, I am so incredibly happy. My baby girl is growing up! And changing in to such a wonderful little lady! She may have an attitude but, I love her none the less. She is an amazing little girl and I seriously could not have asked God for anyone different!
Tomorrow morning I will be going back to the same routine of waking up at 6am and getting her ready for school. I will be standing outside with her while she gets ready to get on the bus. The only difference this year... I will be sending off a Kindergatner and not a preschooler.
It's bittersweet to watch your children grow up and change right before your eye's.